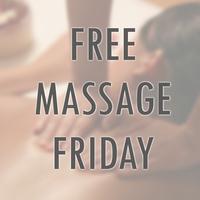 Enter to win a free 60 minute massage every Friday on my Facebook page, Michelle Burke Massage Therapy. Comment on the Free Massage Friday post for entry. A winner is drawn at 10pm and announced by replying to your comment as well as commenting on the post.
Have you won a Free Massage Friday?
Please inbox your address to me so that I can get a certificate in the mail for you.

Certificate, along with instructions and directions, should be received with

in a week.

Must be redeemed within 90 days, see date on certificate.

Check availability here on my website and schedule your massage.

Congratulations!
Free Massage Friday winners are randomly chosen from all who've entered. Even if you've won, you can continue to enter each week to be chosen.
Why Free Massage Friday? I believe everybody deserves a massage.